Aesculaap Private Label is growing! | Aesculaap.nl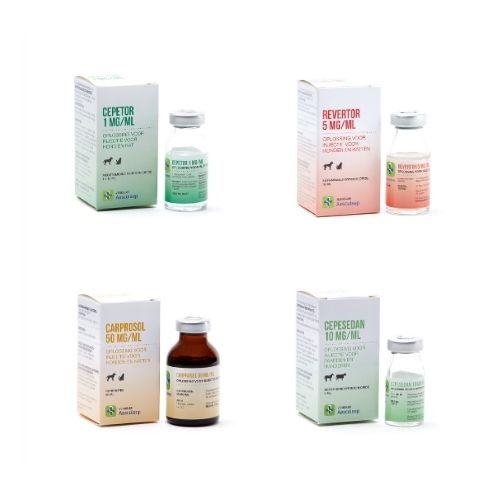 23/09/2021
Aesculaap Private Label stands for good veterinary medicines for a good price. We are proud to present you our four newest Private Label products, which you as a veterinarian can already order via our webshop.
For dogs and cats:

Carprosol 50 mg/ml

Carprosol 50 mg/ml is an analgesic and anti-inflammatory veterinary medicinal product for dogs and cats. This solution for injection is suitable for the control of post-operative pain and inflammation after surgery. Carprosol 50 mg/ml is suitable for intravenous and subcutaneous use. More information about Carprosol.

Cepetor 1 mg/ml

Cepetor 1 mg/ml can be used as a sedation or premedication for general anesthesia in dogs and cats. In cats, Cepetor can be used in combination with ketamine for general anesthesia in minor surgery of short duration. More information about Cepetor.

Reverter 5 mg/ml

Revertor 5 mg/ml is a veterinary medicinal product that reverses the sedative effect of medetomidine in dogs and cats. Revertor reduces the animal's recovery time to approximately 5 to 10 minutes. More information about Revertor.
For horses and cattle:

Cepesedan 10 mg/ml

Cepesedan 10 mg/ml is indicated for sedation and mild analgesia in horses and cattle. Cepesedan can be used to facilitate physical examination and treatment, such as minor surgery. More information about Cepesedan.

Do you have questions about these veterinary medicines? Our customer service is happy to assist you.